Welcome, Illinois Blue is proud to offer a great new service to all of our clients. Affordable House plans to fit your dream.
What does your dream house look like? A Colonial? Country? Victorian? Craftsman? Cottage? Illinois Blue knows what you look for when you're thinking about building a new home.
Here we specialize in custom plans developed for you. Just fill out our design form and we'll contact you with a preliminary sketch and quote.
Since this is a new service we hope you'll check back with us regularly and with your support we feel confident in successfully fulfilling your designing needs.

Click here to download and print our Custom Home Questionnaire. After processing the form we will contact you with any questions and pricing information.
If your username and password is not working check to see if your caps are on. Usernames and passwords are all lowercase unless specifically stated otherwise.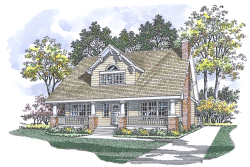 IMPORTANT FACTS
Useful tips & references about this site and what to expect
Copyright laws
Definitions
Common pitfalls & why you should order from us
Construction Cost Estimates