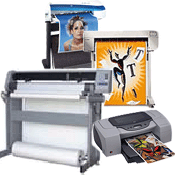 Welcome, to the Illinois Blue equipment area. Here you can browse for equipment that you would like to purchase simply by choosing the manufacturer from the list on the left. We offer a full range from small format to large format digital color. We have printers to plotters, copiers to scanners. For any questions on equipment contact sales@illinoisblue.com

Illinois Blue is an authorized dealer and service provider for RICOH, HP, VIDAR, and DIAZIT. We also resell and service OCE, KIP, and XEROX. Contact our service department for further information @ service@illinoisblue.com

For all survey equipment, storage equipment, and supplies go to the supplies/ products area.